About Us
ABOUT OUR FOUNDER
 "There is no passion to be found playing small –
in settling for a life that is less than the one you are capable of living". – Nelson Mandela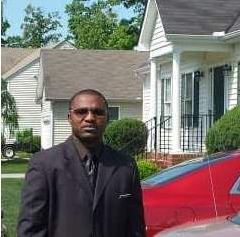 David Embé – Father, Businessman, Humanitarian & World Class Soccer Player
David Embé (born November 13, 1973, in Cameroon) is a former Cameroonian soccer player who played as Striker. He successfully retired during the upswing of his career, still in high demand.  He played for the Cameroon National Football team from 1993 to 1997. Embé also played in the 1994 FIFA World Cup in the United States and scored in their game against Sweden at the Rose Bowl in Pasadena, California in front of over 93,000 fans.
​He played in various countries throughout his career, including for Belenenses of Portugal, Larissa of Greece, Tecos UAG of Mexico, Shanghai Shenhua of China, Deportivo Municipal of Peru, Chernomorets Novorossiysk of Russia and New England Revolution of America. 
David is an international figure who is known and recognized all over the world.  He is well-traveled and has already touched many lives.  As a retired world-class soccer player, David is using his international celebrity status to further his humanitarian causes.  Mr. Embé has chosen to become involved in his own business; he is the originator of Universal Plan B Plus. 
David is assembling teams of people from all over the world to bless as many lives as he can. He is working to motivate, educate and facilitate systems and programs to bring health and wealth to the lives of everyday people.
ABOUT UNIVERSAL PLAN B PLUS 
The Vision of Universal Plan B Plus is to offer each member the opportunity to turn their dreams into reality and achieve economic strength. We understand that as each individual member becomes prosperous, the entire community will thrive. 
This is an opportunity where members are being empowered to change their lives and the lives of others. We are committed to providing the means by which each member can attain financial freedom. One cannot achieve complete happiness if one's health is not excellent or one's wealth is not enough. We know that together we are transforming lack and limitation into economic and social security for each member. Our Motto is: "Changing the World, one Life at a time".
By being involved with Universal Plan B Plus, a member can earn commissions from making sales of the UPB+ Memberships packages and further commissions from the products being offered through the Buyers Club. This can be life-changing.
We are very excited about this opportunity and the freedom it affords us – time with our families, the ability to help those in need, and the financial freedom to enjoy the best of what life has to offer. We get to set our own hours, meet great people along the way and maintain close friendships, and we have fun with what we do. Join us on the journey to making a financial difference for you, your families and to help those in your communities.  

Thank you for joining us on this journey and Welcome to Universal Plan B Plus.